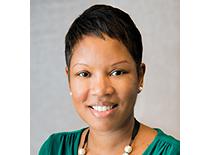 Charon P.W. Hines was appointed in December 2014 as the Director of the Mayor's Office of Community Affairs, having previously served on Bowser's campaign and transition team as the Traveling Chief of Staff. She is a third-generation Washingtonian. She has enjoyed a successful 20-year career in education as a classroom teacher and administrator at schools throughout the Washington metropolitan area.

Her public speaking and leadership skills can be witnessed through executive board membership roles with the DC Federation of Democratic Women, the Metropolitan Women's Democratic Club, Lamond-Riggs Citizens Association, Inc. as a three-term President and the Ward 4 Democrats of Washington. She is a recognized leader that builds relationships with community stakeholders to promote engagement. She has impacted the lives of many through her service and unwavering commitment to the District of Columbia.

Charon holds a Bachelor of Arts in Sociology from Mary Baldwin College, Master of Arts in Teaching from Bowie State University and Master of Science in Educational Administration from Trinity University.