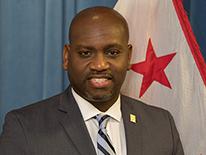 Lamont Akins was appointed to the Executive Office of the Mayor by Mayor Muriel Bowser on January 2, 2015. He currently serves as the Director of the Mayor's Office of Community Affairs.
He manages and provides guidance for the Mayor's Office of Community Affairs to implement the Mayor's Fresh Start vision for constituent engagement and outreach in all 8 Wards across the District of Columbia. Under the purview of the Mayor's Office of Community Affairs are the 10-constituent engagement/affiliate offices.
Prior to joining the Bowser Administration, Lamont served as the Director of Constituent Services/Community Outreach for DC At-Large Councilmember Anita Bonds. Before joining Councilmember Bonds, he served as a Program Manager at the DC Department of Employment Services. Prior to working with DC Government, Lamont worked in Housing and Community Development for AARP, Fairfax County Redevelopment & Housing Authority and the Dallas Housing Authority. Lamont has extensive experience working with Federally funded programs such as CDBG, HOME, HOPWA, HOPE VI, ESG, Public Housing and Housing Choice Voucher.
Lamont has served two terms as an Advisory Neighborhood Commissioner for ANC 4D01 in the Brightwood Park neighborhood and previously served as Director of Conventions for the Eastern Region of Alpha Phi Alpha Fraternity, Inc. He holds a Bachelor of Arts degree in Political Science from the University of Arkansas at Pine Bluff and a Master of Science degree in Community Development from Delta State University. He is a native of Pine Bluff, Arkansas but has called the District of Columbia home for 14 years. He lives in the Brightwood Park area of Ward 4.